Semester Ticket/ FAQ
The SemesterTicket NRW/VRR is your ticket to travel throughout NRW. The ticket is valid in printed form or digitally as a PDF or in the TU app (in combination with an official photo ID). All TU Dortmund students have the ticket and can use it to travel all over North Rhine-Westphalia on all regional trains, S-Bahns, light rail, buses and H-Bahns. The ticket is only valid in second class.
Depending on the semester, the ticket is valid from 01 October (winter semester) or 01 April (summer semester) for one semester (6 months). First semester students can get a discounted pre-course ticket ("Vorkursticket") before the start of the semester.
In the VRR area there are additional transport regulations. Here you are allowed to take one bicycle with you all day and one additional person after 7 p.m. or all day on weekends and holidays. Outside the VRR area only you can ride with the ticket!
On the following map you can see where you are allowed to ride with your semester ticket: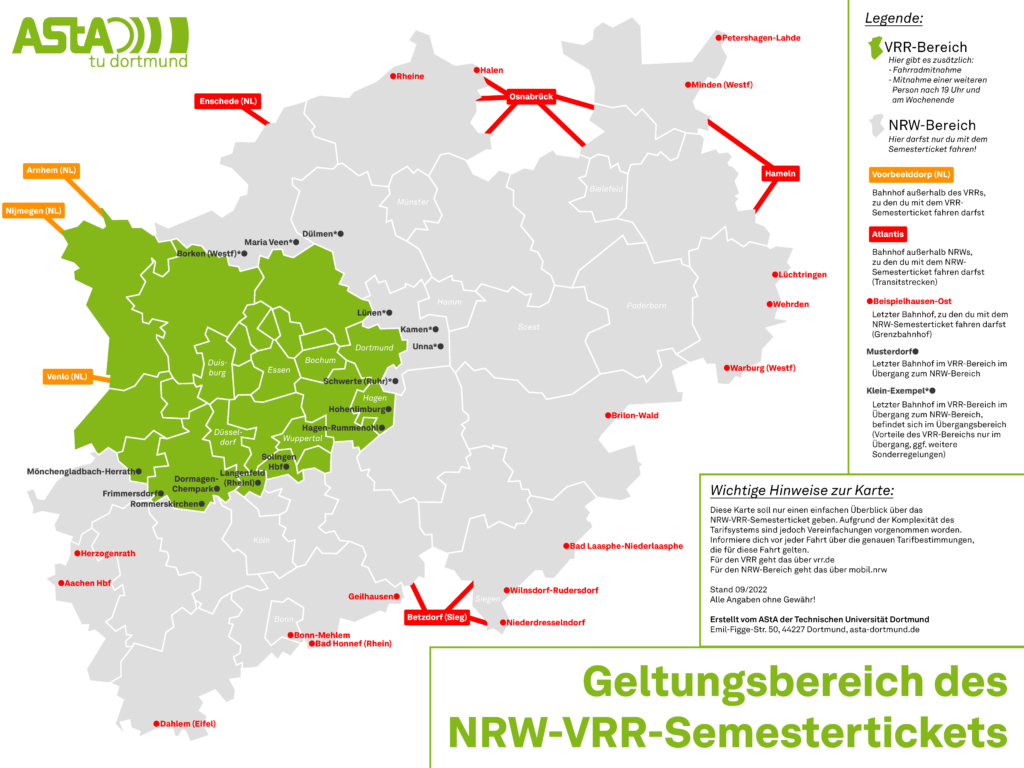 If you have any questions or problems regarding the ticket, you can contact us at any time.
More information about the ticket can be found here as well as in our FAQ: (only in german)
VRR: https://www.vrr.de/de/tickets-tarife/ticketuebersicht/ticket/vrr/semesterticket/
Mobil NRW: https://infoportal.mobil.nrw/nrw-tarif/ticketinfos-im-detail.html#c1024