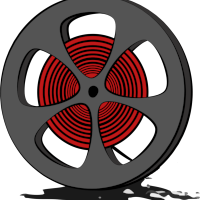 Uni-Film-Club
Venue: Campus North, EF50, lecture hall 1
Office: Campus South, Baroper Straße 322 (driveway 43, House Dörstelmann)
Instagram: https://www.instagram.com/ufcdortmund/
Mail: ufc@ufc.tu-dortmund.de
Web: https://www.ufc.tu-dortmund.de/
The Uni-Film-Club is a university cinema by students for students. Even though our members come from a wide variety of disciplines, we are united by our enthusiasm for films and the cinema atmosphere. But also the taste in movies is very different. From James Bond fans to friends of various genres to lovers of surrealistic works of art, everything is represented. We therefore strive, also a little selfishly, to offer the right program for every taste.
During our cinema screenings, we offer snacks and drinks at student-friendly prices. The offer ranges from beer and coke, chips and gummi bears to the classic popcorn.
During the lecture period you can find us every Wednesday evening at 8:15 pm in lecture hall 1 of EF50. Once a month we also show a movie in the original version (usually in English).
You can find out what exactly we are showing on our website or via social media.