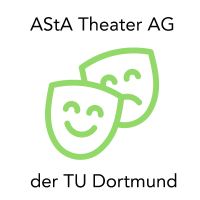 Theater AG
The AStA-Theater-AG of the TU Dortmund currently consists of one Text-Theater group and an Impro-Theater group.
Text theater group:
We perform "classic" text theater. By this we do not mean that that only Shakespeare is performed on stage, but rather that we usually usually orientate ourselves on already existing plays. In between we also like to write something ourselves. It always depends on who is directing. Our group has been in existence since 2004 and we rehearse regularly on Mondays at 6 pm. We usually meet at the IBZ (Emil-Figge-Straße 59).
If you want to join us, just drop by or write us a message on Facebook. There you will also find information about productions.
www.facebook.com/ASTA.Theater.AG.TU.Dortmund
Please understand, if you can't play right away, because the roles are always roles are always assigned at the beginning of the season.
Improtheater "InTUition":
We have been performing improvisational theater regularly since 2016. We rehearse in room 0.215 in the building Emil-Figge-Str. 50. On Tuesdays we have our preparation takes place and on the first Friday of the month we have open rehearsals for all interested people. Here everyone can get involved as much as he or she would like. Dare to jump on stage let yourself be surprised where the scene will lead.
You are still unsure or have questions? No problem, just write us simply on Facebook or our homepage at:
www.facebook.com/IntuitionImpro
www.intuition-improtheater.de